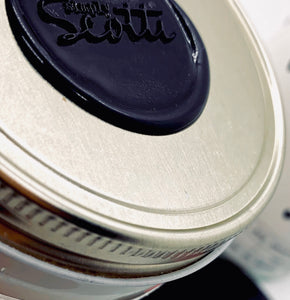 Simply Scotti
SENDING LOVE Candle (Personalized)
Regular price
Sale price
$23.00
---
The clean simple lines of our straight sided 9oz clear glass jars are the perfect understated and modern home décor accent to incorporate in any room.
Premium pure fragrance and infused essential oils
High-Quality USA Grown, 100% Natural Soy Wax
Eco-friendly, crackling wooden wicks. Made in USA
Burn Time: up to 40hrs
Net wt 8oz/226.8(g)
Glass Jar 2.5"h x 2.88"w
Gold Metal lid with Black hand stamped wax seal logo
WE KEEP IT CLEAN Our candles are vegan, clean and free from toxins, carcinogens, and harmful chemicals.
Small -batch and hand-made in Wayne, NJ.
A woman + family owned business.
 
*PERSONALIZATION: During checkout, please include your desired initials in the 'NOTES' section. 
SCENT LIBRARY: We know it can be difficult to select a scent online, so please see the below scent descriptions.

- SIMPLY VANILLA: Simply Vanilla is a classic gourmand fragrance to enjoy in any room, any time of year.  Simply Vanilla creates a calm and relaxing ambience with its warm and subtly sweet scent.  Notes of vanilla bean and buttercream are rounded out by a hint of bourbon. Fragrance Notes: Top: Buttercream, Middle: Gourmand, Base: Bourbon, Sugar
- CASHMERE: This intoxicating scent captures the warmth of vanilla orchid and golden peach layered with a luxurious soft musk to create a light and beautiful scent for any room, any time, all year long! Fragrance Notes: Top: Bergamot, Peach, Berry, Middle: Jasmine, Peony, Base: Sandalwood, Vanilla, Musk, Brown Sugar

- CITRUS SUNRISE: A classic sweet citrus blend reminiscent of freshly picked tropical and juicy tangerine and grapefruit. With just a hint of lemon and peach, this full bodied authentic burst of fruit will brighten any mood, any day. Fragrance Notes: Top: Lemon Peel, Middle: Grapefruit, Tangerine, Agave, Base: Peach, Clementine

- FIRESIDE: A true essence reminiscent of sitting around a cozy and warm campfire. This scent melts complex notes of smoke and fresh burning wood together with a touch of amber and sandalwood. A truly perfect pairing with our crackling wooden wick. Fragrance Notes: Top: Clove Leaves, Middle: Pine, Sandalwood, Incense, Base: Smoke, Amber, Patchouli

- VANILLA BRÛLÉE: An irresistible rich and velvety fragrance of gourmand vanilla bean and caramelized brown sugar. Prepare your senses for a warm decadent aroma of creamy maple custard covered with a lightly torched brown sugar glaze. Fragrance Notes: Top: Coconut, Caramelized Sugar, Middle: Gourmand, Rum, Base: Bourbon, Maple
Our vessels and lids are sourced with the intent to be repurposed. After you enjoy your candle, allow the vessel to cool, then place it in the freezer until the wax has completely hardened. Turn the jar upside down to get the wax out. If it does not fall out by itself, gently tap the bottom of the jar to loosen it, then clean and create/reuse. A few of our favorite repurpose ideas: a bud vase, small accessory storage jar (hair ties, marbles, coins, cotton swabs), pen/pencil holder...
---